INVOS Webinar Series
Monitoring cerebral oxygen saturation for your carotid endarterectomy (CEA) patients
Speakers
Image
Cerebral monitoring during CEA is performed to assess the need to insert a shunt in order to avoid cerebral ischemia.
Review the clinical needs of using Near Infrared Spectroscopy (NIRS) to ensure adequate cerebral oxygenation during CEA procedures.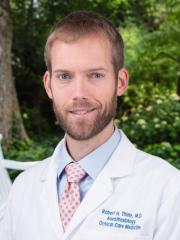 Dr. Robert H. Thiele
Dr. Thiele is a Charlottesville native and an alumnus of both Charlottesville High School (1997) and the University of Virginia. He attended medical school at Vanderbilt, completed his internship at Northwestern, his anesthesiology residency at UVA and his critical care fellowship at Duke. He is board certified in anesthesiology, critical care, and advanced perioperative transesophageal echocardiography.
He returned home to UVA and Charlottesville in 2011, joining the anesthesiology faculty as an assistant professor and specializing in cardiothoracic anesthesiology and critical care. He is a strong advocate for patient safety and is a member of both the Patient Safety Committee at UVA and the Anesthesia Patient Safety Foundation (Committee on Technology). He is the co-director of UVA's Enhanced Recovery After Surgery program, which focuses on improving patient satisfaction and reducing complications after surgery.
Oxygenation
Circulatory
ECG
Cardiac care
Clinical