Location of the Coronary Vessels
Anterior View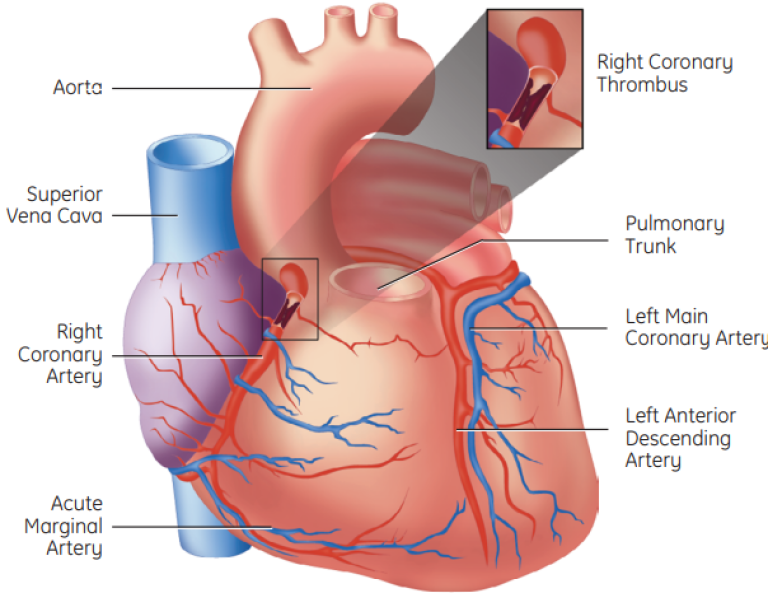 Posterior View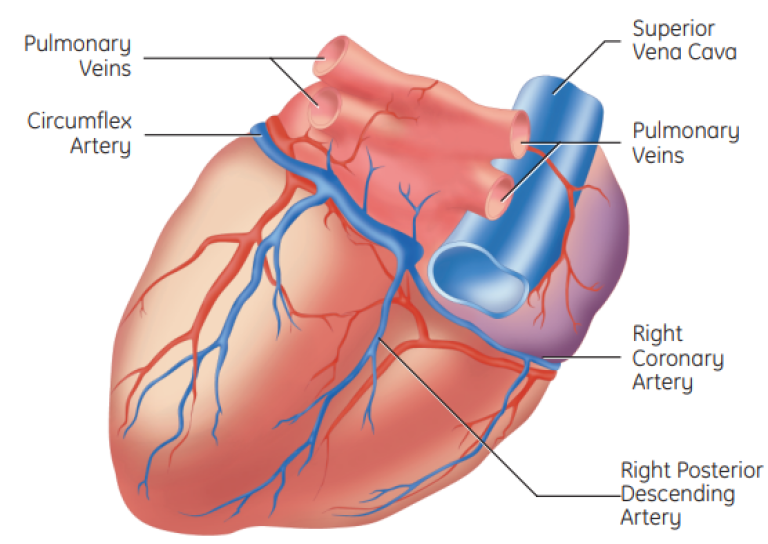 Related ECG Leads
Anterior View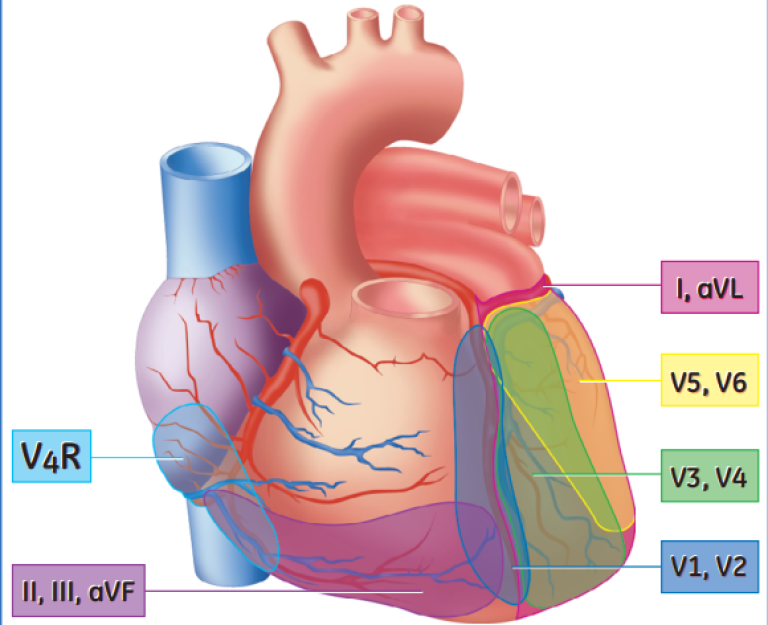 ACC Guidelines recommend "evidence of RV ischemia/infarction be sought in all patients presenting with inferior ST elevated myocardial infarction" and that it "be assessed with a right precordial V4R lead.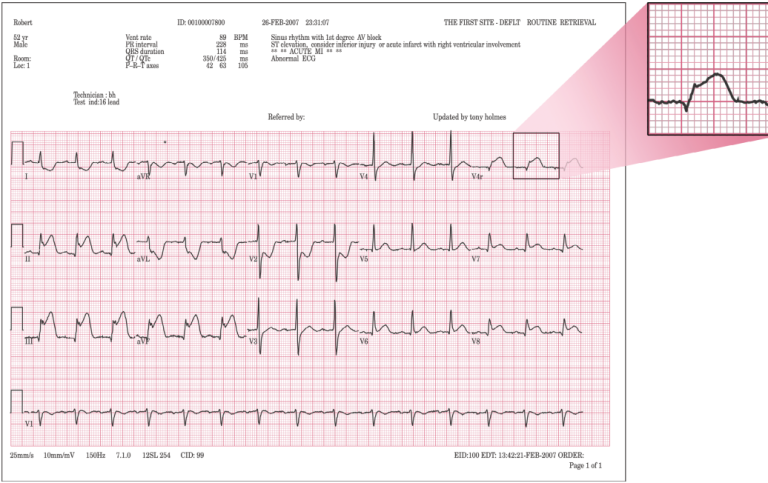 15 Lead Electrode Placement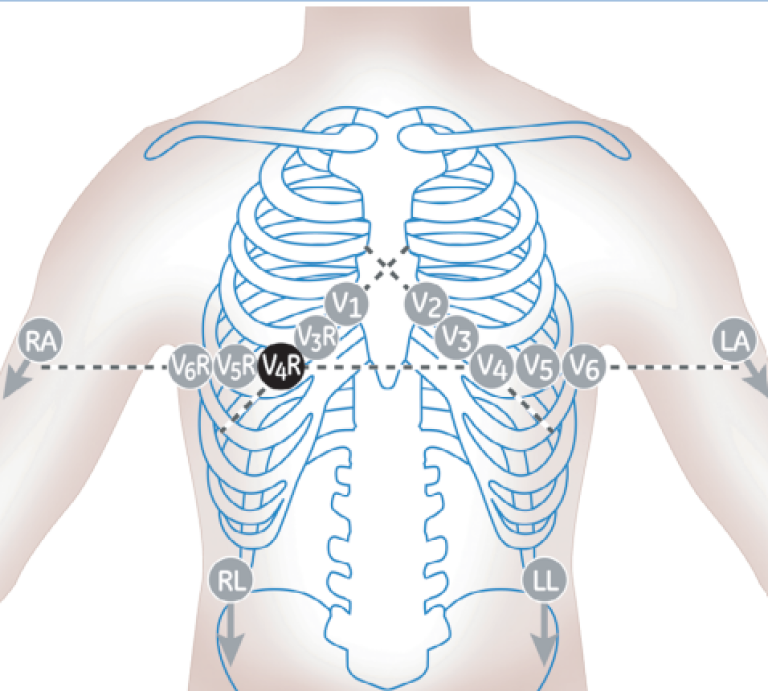 ECG Guidelines for RVI Management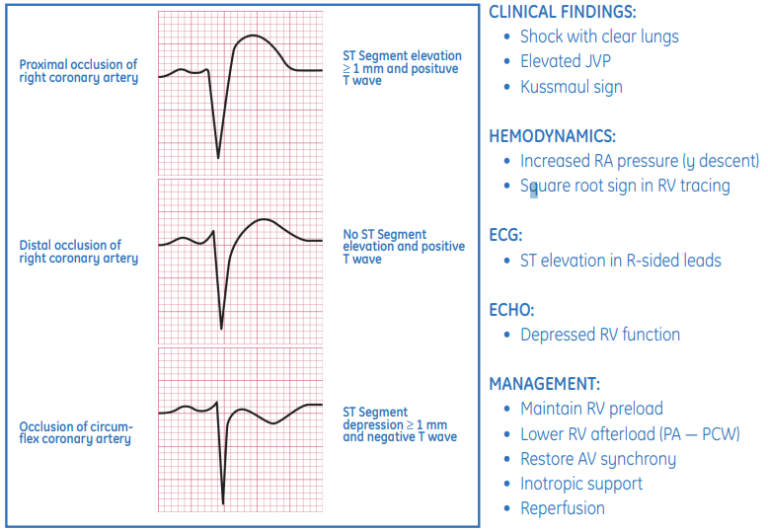 Guidelines
(1). Because treatment of infarction may vary with right ventricular involvement, recording of additional right-sided precordial leads during acute inferior wall, left ventricular infarction is recommended. Routine recording of these leads, in the absence of acute inferior infarction, is not recommended. — (Circulation 2007).
(2). Current AHA/ACC Guidelines recommend that "patients with inferior STEMI and hemodynamic compromise should be assessed with a right precordial V4R lead to detect ST Segment elevation and an echocardiogram to screen for RV infarction." — (Circulation 2004).
(3). RV involvement in acute inferior infarction may be accomponied by significant hemodynamic consequences, including a lowering of cardiac output and systemic blood pressure. — (N Engl J Med 1999).
(4). In addition, the in-hospital mortality of acute inferior infarct is worsened when complicated by RV involvement. — (New Engl J Med 1993).
References
References: [1] Antman EM, Anbe DT, Armstrong PW, Bates ER, Green LA, Hand M, et al. ACC/AHA guidelines for the management of patients with ST-elevation myocardial infarction: a report of the American College of Cardiology/American Heart Association Task Force on Practice Guidelines (Committee to Revise the 1999 Guidelines for the Management of Patients with Acute Myocardial Infarction). Circulation. 2004 Aug 31;110(9):e82-292.
[2] Kligfield P, Gettes LS, Bailey JJ, Childers R, Deal BJ, Hancock EW, et al. Recommendations for the Standardization and Interpretation of the Electrocardiogram. Part I: The Electrocardiogram and Its Technology. A Scientific Statement From the American Heart Association Electrocardiography and Arrhythmias Committee, Council on Clinical Cardiology; the American College of Cardiology Foundation; and the Heart Rhythm Society. Endorsed by the International Society for Computerized Electrocardiology. Circulation. 2007 Feb 23.
[3] Wellens HJ. The value of the right precordial leads of the electrocardiogram. N Engl J Med. 1999 Feb 4;340(5):381-3.
[4] Zehender M, Kasper W, Kauder E, Schonthaler M, Geibel A, Olschewski M, et al. Right ventricular infarction as an independent predictor of prognosis after acute inferior myocardial infarction. N Engl J Med. 1993 Apr 8;328(14):981-8.