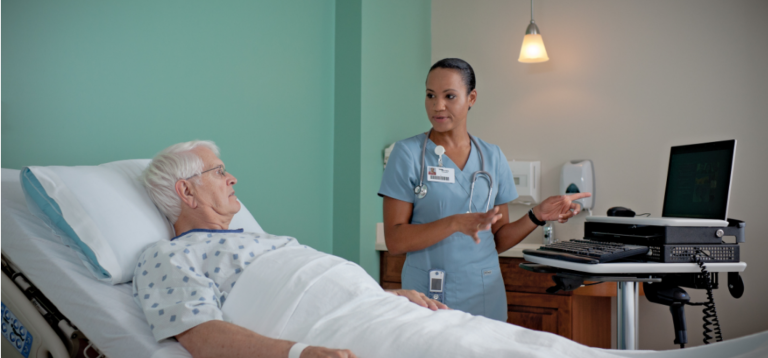 With the rapid development of wearable technology, hospital systems are hoping to implement these tools to improve patient care. When patients are in critical care settings, they are bedbound and possibly using ventilator support making continuous monitoring quite easy from a practical standpoint.
But once they are moved to a general medical ward and are encouraged to ambulate and regain independence – consistent vital sign monitoring becomes more cumbersome and potentially dangerous due to the number of wires and electrodes used.[1]
By applying wearable technology principles to continuous patient monitoring devices, clinicians may access a consistent stream of data and monitoring, potentially improving patient safety. Research tells us using continuous monitors with parameter alerts have been able to improve patient outcomes.1
Developing and implementing continuous patient monitoring must focus on the end users – both the clinician and the patient. Clinicians need technology that can be quickly personalized to each individual patient and their parameters, without adding alarm burden. Patients need devices that enhance their care and comfort rather than hinder it.
Today's article reviews some major considerations when it comes to developing continuous patient monitoring wearable device and introducing them to hospital systems.
Current Trends with Continuous Patient Monitoring
Conventional patient monitoring systems can be difficult for clinical engineering and information technology teams to install and configure. This starts with difficulty setting patient-specific parameters as well as less than ideal workflow for alarm management.2
When it comes to wearable continuous patient monitoring, even though the goal is to increase patient independence and mobility, there can still be multiples electrodes and wires. These electrodes and wires often result in cable clutter requiring clinicians to spend time untangling instead of providing care for the patients.2 Not only do these devices have the potential to create extra work for clinicians, they can increase fall risks for patients.[2]
When a difficult to set up, hard to personalize, and overall disruptive device is introduced to clinicians - this creates a less than ideal scenario for success. These factors, combined with a general lack of confidence and trust in new technology, leads to additional work and potentially poorer overall patient safety if a new device does not consider the end user at every step of development.2
Thankfully research has shown trends to make wearable continuous patient monitoring successful.
User Experience Matters When Introducing New Technology
Clinicians want two things when it comes to new healthcare technology – easy to use technology and increased patient safety thanks to the technology.2
When clinicians are managing multiple patients, even the smallest inconveniences add up over time. This includes a phenomenon called 'alarm fatigue'. This occurs when there are too many alarms going off at the same time, oftentimes for parameters that aren't actually an emergency.
Alarm fatigue can lead to confusion, and clinicians have cited difficulty determining what alarms need to be addressed and which ones are false alarms. To add to this, clinicians also note it can be difficult to adjust the more nuance or complex parameters to reduce the risk of alarm fatigue.2
Clinicians need monitoring devices that are easy to use and intuitive to their workflow. They also need to be able to customize alarms to each individual patient.2 
When it comes to features that make continuous monitoring technology intuitive and user friendly to clinicians, there are several practical aspects to consider including the initial set up for each patient as well as how data and alarms are reviewed.
Even things like how easy monitor´s keys or touchscreen are to use and how responsive they are can make a difference in how user friendly a device is.
When developing monitoring technology that is user friendly, they must be focused on the user – not just the findings or features. Prioritizing the opinions and suggestions of clinicians can not only increase ease of use but can increase trust when introducing new patient monitoring technology.2
Testing new technology with potential end users and applying feedback to improve devices will allow for increased usability and potential application in the future.2
Creating training that is comprehensive to support clinician knowledge and proficiency are also key to implementing new technology. If clinicians do not feel confident in their knowledge or ability to use new monitoring technology, they are less likely to use it or use it properly. This leads to clinicians reporting the new technology adds to their workload rather than offsetting it.[3]
Comparatively, when clinicians are confident in their ability to use continuous monitoring technology, they find it more valuable and overall more useful.3
Patient Safety and Comfort Must Also Be Included in Design
Continuous patient monitoring systems have the potential to increase patient safety compared to periodic spot checking. An increase in accessibility of vital sign data was reported by surveyed nurses, which improved their overall decision making and potentially increasing patient outcomes.3
But comfort and convenience for the patient (not just clinician) should be a focus of wearable monitoring technology. If a device is bothersome to wear, the risk for noncompliance by the patient increases. And just as the technology is only helpful if the clinician uses it – it's only helpful if the patient is able to wear it.3
Wearable continuous patient monitoring devices have the potential to increase patient perception of safety as well. Patients report feeling more confident their healthcare team will be alerted if they started to deteriorated and interventions could be started more quickly.[4]
Patients also report fewer disturbances when using a well-designed wearable monitoring system.4
Summary
Innovative and unobstrusive wearable technology presents a unique solution when it comes to continuous patient monitoring
Clinicians want technology that is easy to learn and easy to customize for each patient
Patients using wearable technology can provide peace of mind that they are being monitoring while untethered.
References
[1] Leene, J et al. (2020). Current evidence for continuous vital signs monitoring by wearable wireless devices in hospitalized adults: systematic review. J Med Internet Res. 22(6): e18636.
[2] Poncette, A et al. (2019). Clinical requirements of future patient monitoring in the intensive care unit: qualitative study. JMIR Med Inform. 7(2): e13064.
[3] Downey, C et al. (2018). The impact of continuous versus intermittent vital signs monitoring in hospitals: a a systematic review and narrative synthesis. Int J Nurs Stud 84:19-27.
[4] Weenk, M et al. (2020). Continous monitoring of vital signs in the general ward using wearable devices: randomized controlled trial. J Med Internet Red. 22(6): e15471.