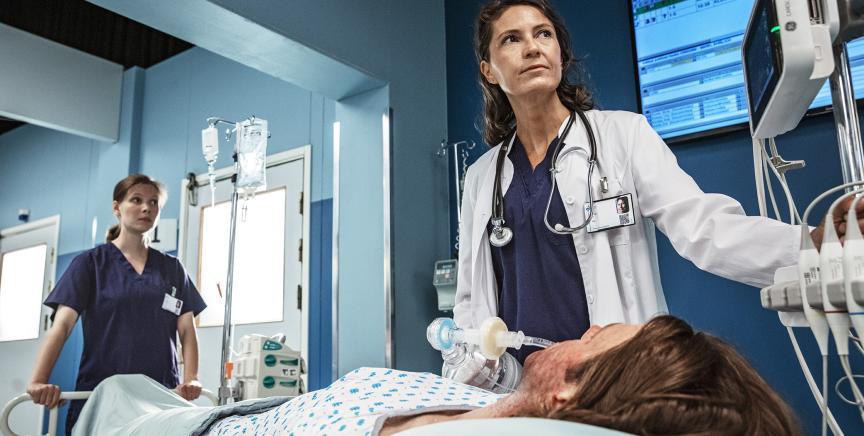 Whether spanning a few steps down a corridor or several hospital floors, the perioperative transport of patients as they progress from induction to surgery or from surgery to a post-anesthesia care unit (PACU) or intensive care unit (ICU) can be fraught with hazard.
A study of intrahospital transport (IHT), the movement of patients from one physical location within the hospital to another, found that forty-six percent of IHTs were associated with adverse events (AEs). Twenty-six percent of IHTs resulted in patient-related AEs; of those, 64 percent were major, requiring medical intervention during transport.1
Though IHT may seem routine, the physical movement of a patient, as well as changes in transport surface, environment, noise levels and equipment can create discomfort and physiological stress that may impact the individual's clinical status.
The perioperative setting, where a relatively high proportion of patients require mechanical ventilation, adds another level of complexity to the transport process.2
Patient adverse events during these crucial care transitions range from agitation, vomiting and accidental dislodgement of equipment to serious and occasionally life-threatening pulmonary and cardiac complications. To avoid these scenarios, perioperative transports should be well organized, efficient, and accompanied by the proper monitoring, equipment and personnel.2
An adverse event during IHT frequently results from a perfect storm of three synergistic components: patient factors, including illness acuity and intubation; system factors, such as length of travel or adequacy of equipment, and personnel factors, which encompass everything from human error to transport team communication, training and supervision.
Hospitals can head off complications during perioperative transfers by fostering a culture of IHT risk reduction and prevention. Developing universal protocols and workflows for patient transport management, training the clinical staff and transport team in these procedures, and using checklists will reinforce an organization's commitment to IHT safety.
The following guidelines suggest a framework for a risk-reducing perioperative transport action plan3:
Assess and stabilize the patient pre-transport, bringing him or her as near as possible to a state of physiological homeostasis.
Adapt equipment for transport purposes (ventilators, infusion lines, monitors, etc.) and ensure adequate medication, oxygen and electrical reserves to facilitate a continuum of care and monitoring during IHT.
Confirm that the retrieval team and destination site are operational (wall suction unit, oxygen connectors, defibrillator, monitors, sufficient space to move the patient) and ready to receive the patient in optimal conditions.
Establish detailed communication between care units to reduce wait times (perhaps due to delays in available beds) and transport times.
Train and staff the transport team according to the type of IHT required. For certain IHTs, this may include specialized and experienced escorts.
Create a form to accompany each transport detailing the indication for transport and patient status before, during and after IHT that becomes part of the patient's medical file.
Conduct regular patient and equipment checks during IHT.
Review transport protocols regularly in order to evaluate the quality of critically ill patient management during IHT.
Patient Transport Monitoring Streamlines IHT Workflow
Technology that delivers continuous vital sign data during perioperative transport functions as the heartbeat of IHT. A study of complications during intra-hospital transport recommended that IHT of critically ill patients should only occur when there is appropriate monitoring and other necessary equipment in the presence of trained personnel familiar with the care of such patients.2 Additionally, a system that trends monitored parameters and automatically transfers data to the patient file would enable a real evaluation of the hemodynamic and respiratory changes that occur.2
Particularly within the perioperative environment, where patients may be sicker, staff overburdened4 and time is limited, an easy-to-use intra-hospital transport monitoring system such as CARESCAPETM ONE from GE Healthcare may help you ensure patient safety during IHT while streamlining clinician workflows.
Pre-transport, staff undocks the 'unplug and go' CARESCAPE ONE unit from the CARESCAPE bedside monitor, then re-docks the unit at the destination, making every hospital bed transport-ready. CARESCAPE ONE continuously captures patient vital sign data across multiple care areas, including the emergency department, operating room, post-anesthesia care unit, and intensive care unit, seamlessly integrating into the monitoring ecosystem. Data is displayed on an easy-to-read screen and delivered to the patient's electronic medical record (EMR).
In a simulated use testing, 5 the CARESCAPETM ONE monitoring system reduced total transport preparation time by 28 percent and transport time by 26 percent.
Additionally, CARESCAPE ONE is easily tailored to patient acuities and care area needs. Its smart Medical USB interface supports the monitoring of vital signs, including ECG, temperature, and blood pressure. CARESCAPE PARAMETER devices are crafted with highly robust materials designed to withstand the most demanding clinical environments.
And because the CARESCAPE ONE is a standardized all in one system (meaning that you can meet your different departmental needs with the same CARESCAPE ONE monitor version), it eliminates the need for multiple department specific systems and versions. This may help to reduce healthcare equipment and service costs. At the same time being fully scalable, even after the purchase, it can easily align with the needs of different patients across multiple departments and protect your existing investments.
The use of intuitive, flexible transport monitoring technologies such as CARESCAPE ONE that are adequately tailored to the demands of the perioperative care process and requirements may help you in your goal to achieve optimal clinical adoption and outcomes. 6
References
Erika Parmentier-Decrucq, corresponding author Julien Poissy, Raphaël Favory, Saad Nseir, Thierry Onimus, Mary-Jane Guerry, Alain Durocher, and Daniel Mathieu, Adverse events during intrahospital transport of critically ill patients: incidence and risk factors, Ann Intensive Care. 2013; 3: 10.Published online 2013 Apr 12. Accessed April 24, 2019.
Patrick H Knight, Neelabh Maheshwari, Jafar Hussain, Michael Scholl, Michael Hughes, Thomas J Papadimos, Weidun Alan Guo, James Cipolla, Stanislaw P Stawicki, and Nicholas Latchana, Complications during intrahospital transport of critically ill patients: Focus on risk identification and prevention. Int J Crit Illn Inj Sci. 2015 Oct-Dec; 5(4): 256–264.doi: 10.4103/2229-5151.170840. Accessed April 24, 2019.
Benoît Fanara, Cyril Manzon, Olivier Barbot, Thibaut Desmettre, and Gilles Capellier, corresponding author. Recommendations for the intra-hospital transport of critically ill patients. Crit Care. 2010; 14(3): R87. Published online 2010 May 14. doi: 10.1186/cc9018. Accessed April 26, 2019.
Mieux vivre la Réanimation, 6ème Conférence de Consensus SRLF-SFAR, Paris, 19 novembre 2009. Accessed April 30, 2019.
Study conducted by an independent third party from CESIM Sante of Centre De Simulation and INSERM at Faculty De Medecine, Brest. Additional information about the study can be found in "CSONE Performance and Usability Study: Observational Study" comparing CSONE and other transport monitors, available upon request from GE Healthcare. As noted on GE HEALTHCARE CARESCAPE ONE infographic accessed April 30, 2019.
Paul J. St. Jacques, MD; Michael N. Minear. Henriksen K, Battles JB, Keyes MA, et al., editors. Rockville (MD): Agency for Healthcare Research and Quality (US); 2008 Aug. Accessed April 26, 2019.