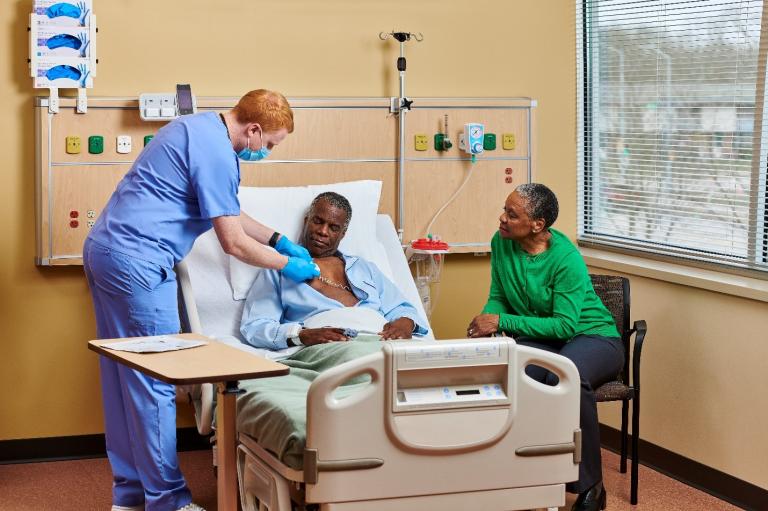 As explained in the first article of this series, hospitals today are facing the urgent need to become more flexible and adaptable.
This article examines how continuous monitoring effectively creates a critical foundation, enabling hospitals to quickly adapt to changing acuity levels and establish longitudinal care models not otherwise possible.
Flexibility Starts in the Ward 
Hospitals have enormous opportunities to improve continuous monitoring practices to drive better outcomes, reduce unnecessary expenses, and extend monitoring outside physical facilities. Achieving that and improving flexibility start in the ward.
Consider how patients are currently monitored in most hospitals: regular spot-checks, perhaps in 2- or 4-hour intervals. While patients in the ICU and telemetry units are continuously monitored, those in other departments are not. 
A chief nursing officer interviewed for this series of articles described something that people who work in hospitals see daily: physicians frequently order non-cardiac patients to be monitored in the telemetry unit. Why? Doctors are not sure what will happen with the patient but know that person will be continuously monitored and telemetry units are staffed around-the-clock.
A review of 250 patients admitted to telemetry beds in a noncritical unit of the general medical-surgical department, in fact, determined that patients spent a total of 1,399 days on telemetry – but only 334, or 24%, of those days were appropriate based on standards of care[1] . That same study projected that eliminating unnecessary telemetric monitoring could result in a minimum estimated savings of $37,007 specific to that cohort alone, and more than $525,000 across the health system overall. 
"Continuous monitoring changes the model to positively impact the outcome for patients." — Practicing nurse clinician, Midwest health system
Another study, which retrospectively examined 574 patients admitted to a cardiac telemetry unit between February 2017 and February 2020, determined that 83% of the tele-admissions were non-cardiac[2] . 
Research published in The Lancet, meanwhile, estimated that 4.2 million people die worldwide within 30 days of surgery[3], and the Journal of Clinical Anesthesia published research determining that among nearly 12,000 surgeries performed, deaths from surgical complications are significantly more likely to occur within 48 hours[4]. In total, postoperative deaths are the third greatest contributor to overall deaths, after ischaemic heart disease and stroke. 
Post-ICU, most patients are at a high risk of deterioration and would benefit from continuous monitoring both in the ward and in the home[5]. Early detection of such deterioration is now more advanced than ever via a range of wireless mobile devices, including wearables, monitors, smartphones, and smartwatches, that equip patients to move around without the risk of tripping over wires. That mobility enables greater degrees of physical activity that have been proven to reduce length of stay and lower readmission rates[6]. 
A Financial Case for Continuous Monitoring
Take the oft-cited example of a 316-bed hospital that conducted an ROI analysis by equipping each bed in its medical-surgical unit with a continuous monitoring device[7]. Executives determined that the investment would save at least $3 million in its conservative model and as much as $9 million in its base model across 5 years, breaking even on the investment within 6-9 months. 
The same analysis also determined that the net benefit of the continuous monitoring system was $224 or $710 per patient per year, for the conservative and base models. 
"We've all seen many clinically-sound ideas that fail because they do not achieve a return on the investment. But when it comes to investing in flexibility, the substantial ROI acts as a catalyst for change," said Julie Viola, Founder and Chief Strategist, Cody Health Ventures.
Data + Infrastructure: A Foundation for Longitudinal Care
Despite the potential to improve patient health outcomes and drive both cost-savings and new revenue, many patients who could be deteriorating quickly are not continuously monitored.
Extending continuous monitoring into the home post-discharge enables clinicians to collect data on conditions such as diabetes, congestive heart failure, weight, and blood pressure to help patients manage co-morbidities. Health at home models also open new service line opportunities that enable hospitals to reduce ED visits and overall patient load. 
"A lot of data could be used to identify patients deteriorating, but there's no good view to identify changes — unless you're doing vitals every minute — and that goes for monitoring people in the ward as well as the home."—Chief Quality Officer, East Coast health system 
The ability for care teams to understand what's happening in real-time and virtually interact with patients requires sensors, monitoring devices and other digital tools as well as the infrastructure, such as a mission-control type of command center, with data flowing back and forth. Remotely monitoring patients is becoming so commonplace, in fact, that research suggests the market will triple by 2027[8]. 
Sage Growth Partners surveyed 123 hospital and health system leaders and 94% anticipate an increase in care shifting from in-hospital to out-of-hospital with 73% predicting that increase to be "moderate" to "significant" in the next 2-3 years. 
Healthcare leaders will accomplish this by increasing their use of remote patient monitoring, telehealth, clinical decision support and patient-facing mobile apps. 
Expanding Continuous Monitoring Capabilities 
Building continuous monitoring capabilities — across care settings — enables hospitals to more strategically use telemetric monitoring, leverage data to avoid adverse health events, extend high-quality care into new settings, reduce care costs, and generate new revenue. 
How do you continuously monitor a patient when adding more equipment heightens risks? That is the distinct advantage of leveraging minimally invasive wearables to promote ambulation and continuity without hindering patient safety. 
Continuous monitoring is one key piece of improving adaptability. To inform hospitals building initiatives to increase overall flexibility, the other articles in this series focus on:
 References
[1] Chong-Yik, R., Bennett, A. L., Milani, R. V., & Morin, D. P. (2018). Cost-Saving Opportunities with Appropriate Utilization of Cardiac Telemetry. The American journal of cardiology, 122(9), 1570–1573. https://doi.org/10.1016/j.amjcard.2018.07.016
[2] T Saha et al. (2021). Utility of telemetry in syncope admissions, European Heart Journal, Volume 42, Issue Supplement_1, ehab724.0604, https://doi.org/10.1093/eurheartj/ehab724.0604
[3] Naghavi, M., et al. (2017). Global, regional, and national age-sex specific mortality for 264 causes of death, 1980–2016: A systematic analysis for the global burden of disease study 2016. The Lancet, 390(10100), 1151–1210. https://doi.org/10.1016/s0140-6736(17)32152-9 
[4] Stefani, L. C., Gamermann, et al. (2018). Perioperative mortality related to anesthesia within 48 h and up to 30 days following surgery: A retrospective cohort study of 11,562 anesthetic procedures. Journal of clinical anesthesia, 49, 79–86. https://doi.org/10.1016/j.jclinane.2018.06.025
[5] Michard, F. and Khanna, A., (2020). Continuous Monitoring Beyond the ICU – The Rise of Mobile Solutions. ICU Management & Practice, Volume 20- Issue 4. https://healthmanagement.org/c/icu/issuearticle/continuous-monitoring-beyond-the-icu-the-rise-of-mobile-solutions
[6]Szeto K, et al (2023). Interventions Using Wearable Activity Trackers to Improve Patient Physical Activity and Other Outcomes in Adults Who Are Hospitalized: A Systematic Review and Meta-analysis. JAMA Netw Open. doi:10.1001/jamanetworkopen.2023.18478
[7] Slight, S. P., Franz, C., Olugbile, M., Brown, H. V., Bates, D. W., & Zimlichman, E. (2014). The return on investment of implementing a continuous monitoring system in general medical-surgical units. Critical care medicine, 42(8), 1862–1868. https://doi.org/10.1097/CCM.0000000000000340
[8] Markets and Markets (2023). Remote Patient Monitoring (RPM) Market is Expected to Reach $175.2 billion. GlobeNewswire. https://www.globenewswire.com/news-release/2023/03/02/2619174/0/en/Remote-Patient-Monitoring-RPM-Market-is-Expected-to-Reach-175-2-billion-MarketsandMarkets.html