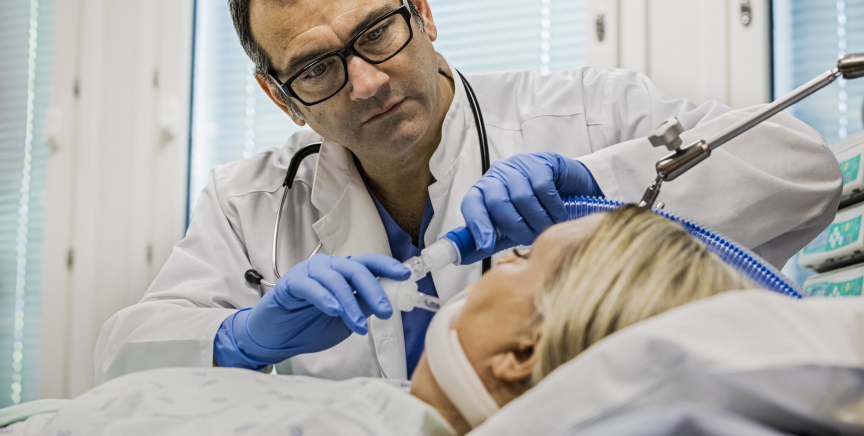 Functional Residual Capacity (FRC) is a measurement of the reservoir of air that keeps lungs oxygenated after a normal exhalation. In mechanically ventilated patients, FRC measures actual lung volume. FRC is a vital indicator of acute lung pathology, but until recently it could not be measured directly, only estimated through indirect methods. Today's technologies that enable direct measurement should help address barriers to routine use of FRC as an aid to clinicians in their decision making process. Serial FRC measurements provide valuable information about disease progression and resolution,optimization of PEEP, and prevention of ventilator-induced lung injury.
Clinicians need to know that many factors besides disease pathology affect FRC, including prone positioning,recruitment maneuvers, suctioning, and weaning. Direct FRC monitoring is an under-used tool that can help manage many ventilated patients with developing or resolving acute respiratory illnesses.This series of articles from the Critical Decisions publication offers a variety of perspectives on FRC measurement.1
From Critical Decisions, Continuing Education for Dieticians and Respiratory Therapists
Contributors: Alexander B. Adams, MPH, RRT, FAARC, Assistant Professor in Medicine, University of Minnesota; Lluis Blanch Torra, MD,Critical Care Center Hospital de Sabadell, Sabadell, Spain; Bruce H. Culver, MD, Associate Professor, Pulmonary and Critical Care Medicine, University of Washington Medical Center; Diederk A.J. Gomers, MD, PhD, Vice-chairman of Adult ICU, Erasmus Medical Center, Rotterdam, Netherlands; Carl Haas, MLS, RRT, FAARC, Education and Research Coordinator, University of Michigan Health System; Richard H Kallet, MS, RRT, FAARC, FCCM; Respiratory Care Services Director of Quality Assurance, University of California San Francisco; John J. Marini, MD, Director of Physiological and Translational Research, Health Partners Medical Group, Minneapolis/St. Paul, Minn.
Critical Decisions is published by Saxe Healthcare Communications and sponsored by GE Healthcare.
To read this entire article series, please click the button below to access a PDF download.