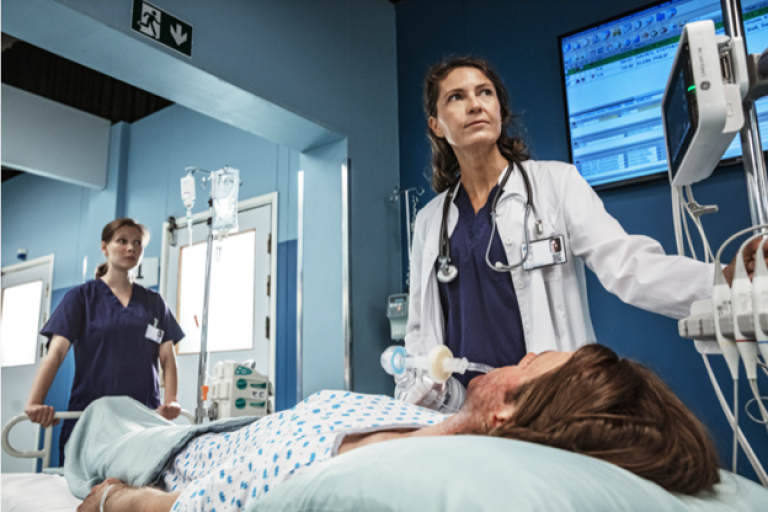 For patients, major surgery can be a life-changing event, for the better or worse. For these patients, the goal of entering the hospital and putting themselves through the uncertainty, pain and recovery required with any procedure is more often than not to either prolong their lifespan or improve the quality of their life.
However, what happens after surgery can be the determining factor in whether or not those goals are met. In fact, it's now estimated that approximately 15% of people who undergo major surgery will go on to develop complications that may negatively impact their survival, as well as their quality of life1. At the same time, the number of patients undergoing elective surgery, who suffer from frailty or additional comorbidities, has steadily increased1. This has created ever-increasing challenges for hospitals and clinicians, who must provide the appropriate level of postoperative care, detect and take action on clinical deterioration and optimize processes which support patient recovery.
While the majority of hospitals utilize their ICU to monitor and manage these patients in the immediate period following surgery, this option has created its own challenges which make it a less than optimal choice. From increased costs to unit pressures which force surgery cancellations, utilization of the ICU for patients who do not require specific intervention, such as invasive ventilation or complex cardiovascular support, can negatively impact an organization's financial health1.
For all of these reasons, the concept of enhanced care units has arisen in order to fill the gap between critical care and the general ward. In this paper we will take a look at the need for enhanced care units when moving patients from the operating room to the medical or surgical ward, the challenges caused by referring postoperative patients to critical care and how embracing the future of enhanced care units can improve quality of care, patient safety and hospital economics.
Putting patients first: the need for enhanced care units
As Pauline Elliott, Lay Representative for the Board of the Faculty of Intensive Care Medicine at the Royal College of Physicians explains, "Patients are right at the heart of the enhanced care initiative. The clear focus is on providing safe and effective personalized care for those whose needs mean they are at the boundary between the ward and critical care. Patient pathways are not a series of defined steps between levels and locations. Rather they represent a continuum of care.2"
Fortunately, the majority of patients receiving that safe, effective and personalized care is possible by identifying those who are at the highest risk of adverse outcomes following surgery prior to their procedure. Once identified, treatment in a specialized environment with close and continuous monitoring and individualized care during the immediate postoperative period can allow patients to be managed safely, which is why enhanced care units are so vital.
On the average medical or surgical ward, a nurse spot checks patients´ vital signs, including saturation, pressure and heart rate, every 4-8 hours following surgery. Due to the intermittent nature of spot checks, the issue is that the patient's condition is only known at the times that those measurements are taken. In the meantime, and at all other points in the day, clinicians are working blind. However, the risk of adverse events after surgery is high for up to 30 days postoperatively, with the first three to five days being the most critical1.
This is the reason that continuous monitoring is also critical to detect trend changes for possible adverse events, such as pulmonary problems, in order to identify them early and intervene before the issue becomes too dangerous or life-threatening. The earlier the problem can be identified, the better it is for patient safety and experience, as well as patient outcomes.
Challenges of the critical care environment
For the majority of hospitals, the only environment which offers the level of care required by this patient population is the critical care space. Because of this, critical care admission has become the go-to for postoperative patients at increased risk of adverse outcomes, despite the fact that most do not require specific intervention, and many may only require continuous monitoring.
This in itself has created numerous problems for hospitals. Considering that a unit faces constant pressure from emergency admissions, a factor which has only been magnified during the COVID-19 pandemic, surgical cancellations on the day of surgery can rise above 5% for patients pre-booked into critical care2. This leaves hospitals at a crossroads, as they struggle to protect the interests of their patients, by offering enhanced support beyond the treatment normal wards can provide, while reducing cancellations of major elective surgeries.
It also increases the challenges faced by patients as they are left to deal with the inconvenience and health complications that can arise due to a last-minute cancellation or face the prospect of treatment which may not adequately address their postoperative needs.
This is why enhanced care units have been developed in order to fill that gap by providing the best patient outcomes through efficient resource utilization and the right level of care at the right time.
Enhanced perioperative care to solve the critical care dilemma
Unlike critical care, enhanced care, which is also known as Level 1 or Level 1 ½, takes place in a ward setting, offering a solution for patients who would benefit from continuous monitoring and higher levels of interventions than normal postoperative wards can offer.
While the boundaries between Level 2 and Level 3 care have been clear and well-defined, the lines between Level 1 and Level 2 have been blurred, lacking guidance2. Enhanced care units address this gap and provides the guidance necessary to provide care for the patients that fall between these lines.
Levels of care are based on the monitoring and support provided as shown below2: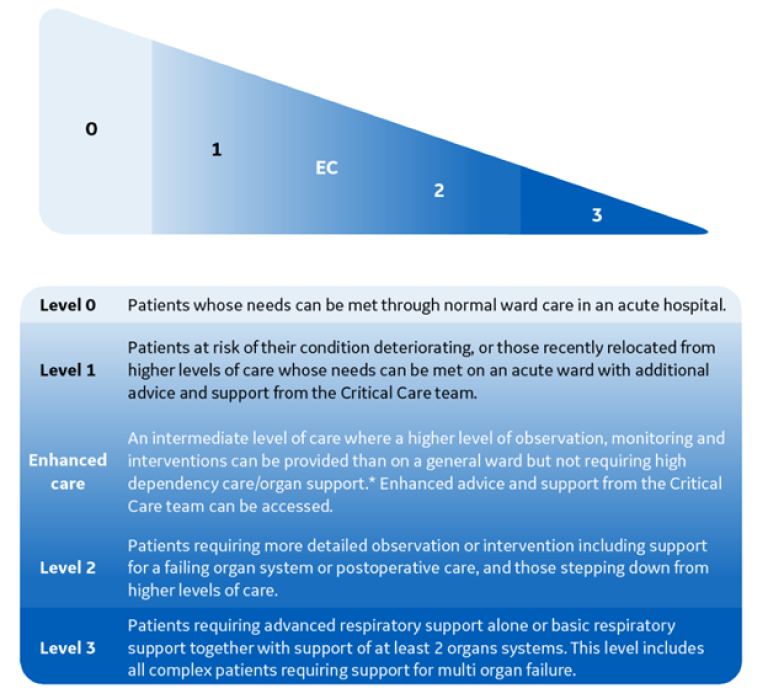 While the patients who can most benefit from enhanced care units are the ones at higher risk of adverse outcomes, they do not require critical care admission. Patients who should be considered for enhanced care include individuals, who1:
Have a predicted risk of mortality within 30 days of surgery of more than 1%, using a validated risk assessment tool.
Are undergoing specific surgical interventions.
Require enhanced monitoring.
With enhanced care units, timely interventions and escalation treatment is possible due to enhanced monitoring and staffing, as well as access to critical care advice and support. Because of this, enhanced care units are not a substitute for or step down from critical care, but a bridge between critical care and the postoperative wards that improves patient management and safety.
Benefits of enhanced care units for patients and hospitals
Because of the continuous monitoring and access to higher level interventions enhanced care offers, it comes with numerous benefits for patients such as reduced risk of postoperative complications, including perioperative morbidity and mortality, and last-minute cancellation of surgery. Hospitals with enhanced care areas benefit from:
Improved efficiency of care.
Reduced length of stay.
Reduced pressure on critical care services.
This reduction of pressure and demand for critical care services may also help to facilitate the access for critically ill patients to a critical care bed.
Because of these benefits, hospitals should embrace enhanced care units, making it part of the continuum of care between the ward and critical care areas to improve the future of care for both patients and hospitals.
Summary
Surgical complications which affect mortality and quality of life occur in 15% of patients.
The number of patients with frailty or comorbidities undergoing elective surgery has steadily risen.
Patients at higher risk of adverse events following surgery require higher levels of monitoring and intervention but may not need all of the resources of the critical care space.
Enhanced care units bridge the gap between the ward and the critical care space to improve patient safety and reduce complications and length of stay.
Additionally, for hospitals enhanced care units reduce pressure on the critical care space, as well as surgical cancellations.
References
Faculty of Intensive Care Medicine / Centre for Perioperative Care. (2020, October). Guidance on Establishing and Delivering Enhanced Perioperative Care Services.
The Faculty of Intensive Care Medicine, Royal College of Physicians. (2020, May). ENHANCED CARE: Guidance on service development in the hospital setting in Critical Futures.