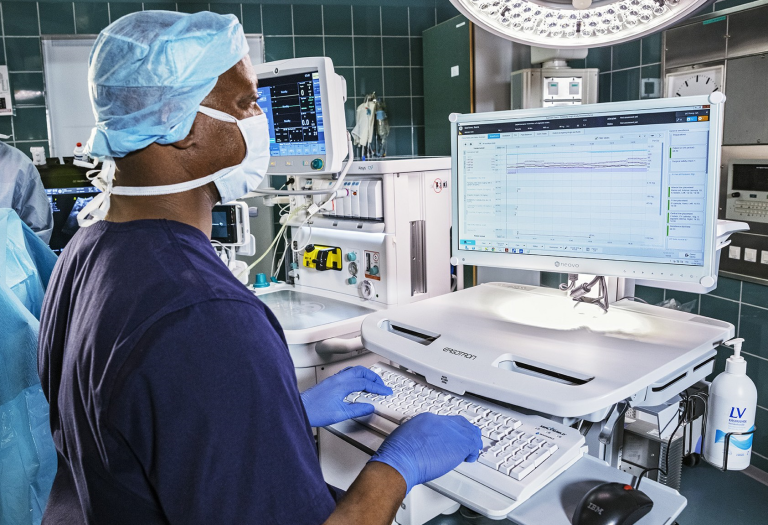 The world of healthcare is full of rapid evolution. New research creates improvements in clinician practice based on new evidence. New technology can improve patient monitoring, clinician communication, and protocol implementation. 
While innovation is key to providing the best patient care, this constant state of change can create disruptions in the delicate healthcare ecosystem. Healthcare systems are always on the cusp of change and when healthcare systems decide to make changes in policy, practice, or technology – it's never simple.
Acknowledging the need to support clinicians in creating a change culture is vital and research shows communicating data as far as clinical outcomes and trends is one of the more powerful ways to encourage timely healthcare practice change.
Today's article reviews a few of the common challenges when it comes to implementing healthcare change as well as considerations to approach these barriers.
Creating a Culture of Change
Healthcare organizations must support several factors when it comes to healthcare change management. Factors include creating a sense of urgency surrounding the change, a purpose for the proposed change, and a plan for change implementation all play a role in successful healthcare practice change1.
Ensuring access to the right information is key to understanding a problem, finding ways to improve, and driving the change to see those improvements. While a change in practice can seem obvious to those who have poured over the data, frequently data like this is simply unavailable or difficult for everyone to access. This lack of visibility makes it difficult to build support around the change.
Sharing data with clinicians can be extremely powerful to cultivate support around change. This includes both data around the current problem or the proposed solution. This is most compelling when it's information from the healthcare system itself rather than an outside source which means data must be collected before a change is proposed2.
Measuring and monitoring outcomes or events such as falls or central line infections for a period can foster a sense of urgency to address problems affecting clinicians.
Simply put, clinicians need to know why they need to change their current practice, why it matters, and how to do it. Answering these questions help create a change culture, empowers clinicians to support the change, and starts the process of implementing the change.
Communication During and After Change is Vital for Adoption and Adherence
Communication doesn't end at convincing clinicians to implement a practice change. Once a clinical practice change has been implemented, clinicians need feedback to support continued adherence.
Even if clinicians are open to change, there can be confusion around implementation which must be clarified. This may look like frequent meetings to share concerns or questions or providing open line of communication to clinicians at every step of the change. 2 
Communication within departments and various healthcare sites can help reduce variability by identifying unit-specific concerns surrounding the change.
If there is confusion around either the practice change itself or implementation, this opens up the risk of incorrect assumptions or inaccurate information being shared to fill the knowledge gaps2.
During change implementation, collecting and communicating how the process is going including both adherence and outcomes produced due to the change can be challenging. Healthcare practice changes are often implemented in phases over long periods of time in large healthcare systems, but it remains a critical step in promoting successful change2.
Communication of data helps eliminate the lack of visibility of how this innovation impacts practice often cited as a barrier to change3.
How Technology Fits into Healthcare Practice Change
The role of health information technology, or healthcare IT, cannot be ignored when discussing change management. How clinicians interact with data about their patients is vastly different, even from a few years ago.
With the advent of electronic medical records and real-time monitoring systems, clinicians are now using digital solutions to support clinical practice change.
Healthcare technology allows for vast amounts of information to be collected and analyzed. Data collected through digital solutions can be used to both identify opportunities for improvement and provide insights on current practice outcomes4.
Collecting outcome or performance metrics helps drive quality improvement for clinicians. This is done by supporting healthcare technology systems that provide timely and specific data5.
Issues arise when performance metrics are not easily accessed by hospital systems to evaluate what works and what doesn't. Since it is well established that data helps drive change implementation, using healthcare technology and devices to accurately capture and evaluate data can lead to quicker rates of practice change5.
Summary:
Healthcare change management is complex and hinges on several factors
Supporting a culture of change around a common vision or goal can foster a more rapid adoption of change
Providing clinicians with timely data supporting the need for change as well as outcomes post-change increases communication for all parties involved
Healthcare technology can play a major role in facilitating change by capturing and analyzing data surrounding clinical practice changes
References
[1] Campbell, R. (2020). Change management in healthcare. Health Care Management. 39(2). 50-65.
[2] Gesme, D & Wiseman, M. (2010). How to implement change in practice. Journal of Oncology Practice. 6(5). 257-259.
[3] Kirchner, J et al. (2020). Getting a clinical innovation into practice: an introduction to implementation strategies. Psychiatry Research. 283. 112467.
[4] Pastorino, R, et al. (2019). Benefits and challenges of Big Data in healthcare: an overview of the Eurpoean initiatives. The European Journal of Public Health. 29(Suppl 3). 23-27.
[5] Curcin, V et al. (2014). Model-driven approach to data collection and reporting for quality improvement, Journal of Biomedical Informatics. 52: 151-162.