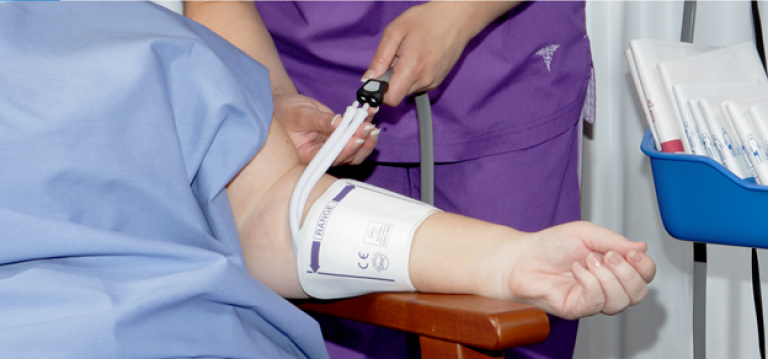 That quest should not focus solely on major initiatives. Even upgrades to seemingly routine items, like non-invasive blood pressure cuffs and connectors, can make a big difference.
The Power of Continuous Blood Pressure Data
One opportunity to streamline an otherwise disparate clinical ecosystem is through data that helps consolidate and optimize insights across the care continuum. Here, non-invasive blood pressure measurement with properly sized and configured cuffs can play an important role. Non-invasive surveillance can track each patient's blood pressure according to a selected frequency, such as every 15 minutes.
Automated measurement provides a continuous flow of information and a cohesive look at patients' blood pressure readings over time. Efficiency is enhanced because clinicians can focus on other tasks instead of taking repeated measurements manually. The data from 24-hour surveillance can help support clinical decisions for multiple purposes: monitoring response to anti-hypertensive medications, tracking blood pressure while patients are taking other drugs,1 and many more.
Research demonstrates that continuous monitoring of vital signs correlates with positive outcomes and reduced costs. One 2021 study of continuous pulse oximetry surveillance, including more than 100,000 patients, found that none died or were harmed by respiratory depression from sedatives or analgesics while they were being monitored.2
Similarly positive impacts have been shown in relation to blood pressure monitoring: A 2018 paper calculated the cost-benefit of screen-positive ambulatory blood pressure monitoring at up to $5,013. The calculation accounted for savings from preventing events and from maintenance care for health states such as myocardial infarction and stroke.3
The Impact of NIBP Monitoring Accessories
Savings like these may be enhanced through the use of clinical accessories that make blood pressure monitoring faster, more uniform, and more cost-effective. Here are a few characteristics worthy of consideration when selecting NIBP measurement devices:
Cuff material: Cuffs made of soft material can help keep patients comfortable during extended stays with minimal need to reposition. Cuffs made of durable materials can withstand more frequent disinfection and thus last longer, saving on costs for replacement.
Cuff compatibility: In settings where cuffs travel with patients, there are advantages to quick-release connectors that easily attach cuffs to machines. Such connectors minimize time spent linking hoses, while the use of a cohesive line of products helps consolidate vitals data. Single-patient-pairing quick-connect systems may also help hospitals in their infection prevention protocols
Cuff sizes: Blood pressure measurement accuracy depends in part on making sure that cuffs fit patients properly. The cuff inventory should include a broad range of sizes and configurations for neonates, children, and adults with different body characteristics.
Three Innovative Blood Pressure Cuffs to Support Quality Measurement
A variety of non-invasive blood pressure cuffs are available to help drive efficiency and optimize outcomes in different clinical settings and for different types of patients. Here are three blood pressure cuffs to consider:
CRITIKONTM SOFT-CUF: This limited-use cuff, the most popular in the Critikon line from GE Healthcare, is made from soft and absorbent material and contains no potentially harmful DEHP or natural rubber latex. Softness and rounded corners for patient comfort make this cuff a preferred choice, especially for longer stays.
CRITIKON DURA-CUF: This reusable and easy-to-use cuff is made with flexible nylon that is durable and easy to clean. The tough material is well suited for extensive use and multiple disinfections. Like the SOFT-CUF, it has rounded corners for patient comfort.
CRITIKON RADIAL-CUF: This clinically validated, limited reuse cuff is the first designed specifically for adults who are overly muscular or obese. It is placed on the forearm and can provide more reliable readings than when traditional cuffs are attached to the forearm, as clinicians often do when an upper arm cuff does not properly fit an overly muscular or obese patient. One analysis by GE Healthcare found that such misplacement can understate systolic blood pressure by an average of 10 mmHg 5.
All these cuff are compatible with the proprietary DINACLICK™ connection system from GE Healthcare.
Seemingly Little Things Can Matter Greatly
When collecting blood pressure measurements and other patient data, workflow efficiency is important. However, dispersing gathered data across incompatible machines creates added costs and needless labor. A steady flow of insights generated from a single system may help cut waste across the continuum of care. And wisely chosen accessories may provide additional savings—they matter more than you might think.
References
1. https://my.clevelandclinic.org/health/diagnostics/16330-24-hour-ambulatory-blood-pressure-monitoring
2. https://pubmed.ncbi.nlm.nih.gov/32175965/
3. https://pubmed.ncbi.nlm.nih.gov/30571548/
4. https://www.gehealthcare.com/-/jssmedia/gehc/us/files/products/accessories/clinical-accessories/nibp-cuffs/new-2021sep/critikon-radial-cuf-sell-sheet_non-ce_jb00416xx_v7.pdf?rev=-1
5. https://www.gehealthcare.com/-/jssmedia/gehc/us/files/products/accessories/clinical-accessories/nibp-cuffs/new-2021sep/critikon-radial-cuf-sell-sheet_non-ce_jb00416xx_v7.pdf?rev=-1&hash=932AEFA7F6961DF12D1063AC800D94F4