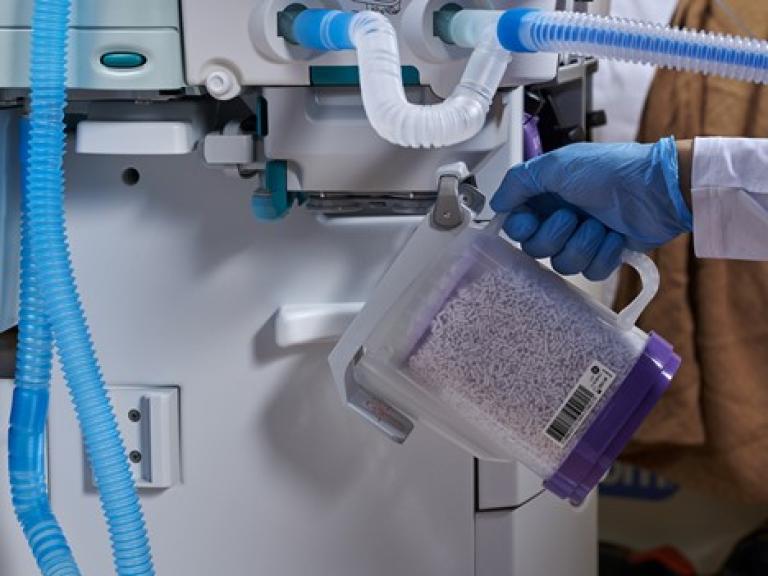 Investing in high-quality accessories can have benefits that reach throughout a hospital, saving money and labor while promoting treatment effectiveness, staff safety, and patient satisfaction. Here are a few cases in point.
Helping make nurses efficient and effective
In multi-site study cited in Nursing & Health,2 nurses reported frequent equipment and supply failures that "hindered care, eroded quality, and threatened patient safety." They lost valuable time with patients searching for replacement equipment or supplies and dealing with broken or misplaced items.
Study authors noted that this lost time could affect the nurses' ability to provide timely and safe care, as less time spent at the bedside often leads to suboptimal patient outcomes. This study highlights just one way in which quality medical equipment and clinical supplies can affect the patient experience.
On the other hand, nurses are helped by supplies that stay with a patient from admission to discharge: When patients encounter fewer supplies, there is less risk of transmitting infection. To cite one example, blood pressure cuffs that work with devices throughout a facility can remain with patients as they transfer from one area to another. To function in this way, accessories need to be flexible and comfortable for patients, but also sturdy enough to withstand repeated use.
Choosing value over price
While supplies can be among a hospital's largest expense line items, that is no reason to fixate on initial purchase prices. Lower-priced accessories can have a variety of negative effects that, according to an article in Healthcare Purchasing News,3 including significant impact on clinical outcomes.
Similarly, The World Health Organization4 reports that persistent use of low-quality devices, equipment and tools makes quality care and positive outcomes harder to achieve and promotes higher costs for patients. It follows that using equipment able to deliver accurate diagnoses and streamline clinical work is both good for patients cost-effective.
Promoting staff safety and high morale
COVID-19 added pressures on healthcare systems, but problems like staffing shortages, especially for nurses, already existed. A report in the Journal of Risk Management and Healthcare Policy,5 attributed this in part to suboptimal working conditions, including lack of quick access to necessary equipment and supplies. ICU nurses said that availability of equipment when needed was vital to their job satisfaction. The issue is significant: According to a study reported in Sage Open Medicine,6 doctors and nurses on average spent 6-9% percent of their morning and evening shifts searching for equipment.
On the safety front, the Occupational Safety and Health Administation7 notes that hospital workers are routinely at elevated risk for injury and illness. Quality equipment and compatible accessories can help protect them. For example, the AMSORB Plus8 CO2 absorber from GE Healthcare limits the buildup of toxins within anesthesia machines that could escape into the room. Instead, harmless organic compounds emerge.
An excellent way to make sure staff members are equipped to do their jobs well is to maintain a supply of high-quality accessories that are fully compatible with high-quality care devices. Simply stated—especially in healthcare—working efficiently and effectively requires the right resources.
References
1 https://www.ncbi.nlm.nih.gov/pmc/articles/PMC5837176/
2 https://www.ncbi.nlm.nih.gov/pmc/articles/PMC5549458/?report=reader
3 https://www.hpnonline.com/sourcing-logistics/article/21159604/four-ways-highquality-medical-supplies-can-help-reduce-the-cost-of-care
4 https://www.who.int/news/item/05-07-2018-low-quality-healthcare-is-increasing-the-burden-of-illness-and-health-costs-globally
5 https://www.ncbi.nlm.nih.gov/pmc/articles/PMC6859118/#!po=2.50000
6 https://www.ncbi.nlm.nih.gov/pmc/articles/PMC6503588/
7 https://www.osha.gov/hospitals
8 https://www.gehealthcare.com/products/clinical-accessories/co2-absorbants
© 2022 General Electric Company – All rights reserved.
GE and the GE Monogram are trademarks of GE. Reproduction in any form is forbidden without prior written permission from GE. Nothing in this material should be used to diagnose or treat any disease or condition. Readers must consult a healthcare professional.
JB22299XX